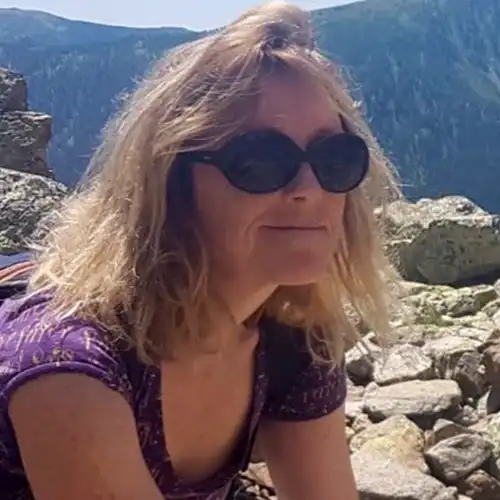 CAROL MCCLOSKEY
I live in the south of France at Antibes where I have been working from my home as a person-centered counselor since 2015 following my training with the Person Centered Approach Institute in France. I was accorded my practitioner's accreditation for counseling by the French Association for Person Centered therapy (AFP-ACP) and my practice is informed by the code of ethics of this organization. My work in private practice is with couples and individuals. I feel that groupwork offers other precious experiences in relatedness and that the group is really the home of the person centered approach and that this dimension was missing in my daily experience since training and this is why I sought to join the online community of the CSP.
I have lived in different countries since I left the town where I was born in 1964 near Belfast. Literature was my first love and proof early in life for me of how all human beings share the attempt to live happily in a world of such suffering and beauty. I left Ireland at 18 years old to complete a BA Hon in literature at Oxford university in 1986. Later after some years traveling, I settled in Paris, taught English for a living and in 1992 continued literary studies within a psycho-analytic framework at the université de Paris 7 with a Masters 2 in the relationship between literature and psycho-analysis and choosing to write in depth on the poetry of Sylvia Plath 'as a recovery of self'.
In these years my personal enjoyment in the helping others was expressed in volunteer work, at Tadworth Children's hospital near London, and in France with the Petits Frères des Pauvres (an organization in which younger people take the elderly on holidays) and work on an SOS suicide prevention helpline SOS Amitié. I was convinced of my need to experience as much of life lived as possible to combine with the insights of academic study.
In Paris I met my life partner and we moved to the south of France shortly after the birth of the elder of our two daughters. Writing has been a continuous thread in my experience, a way of absorbing loss, of making sense of experience, appreciating relationships and nature. To explain the connection between writing and therapy for me I would quote Graham Greene's comment that 'hatred is a failure of imagination.' For me in some ways, therapy like literature is a way of looking deeply and with imagination at the person I am working with. In 2000 I published a collection of novellas, and over the next years ran a local online magazine 'Le Mag'Azur' devoted to cultural events and portrayals of local personalities. Other work experience includes language teaching in a local community centre, in a regional business school in France and at university level.
For most of my life since leaving Ireland, I have been used to living in an environment with people of culturally diverse and multilingual origins. I have no judgement on this fact beyond that this diversity is the flavour I know best. Perhaps being at home with different forms of unbelonging has something to do with an instinct to travel far from the transgenerational sectarian wounds of the world into which I was born during the civil strife and political violence of the Troubles in northern Ireland.
In my life as a therapist I've also trained in gestalt oriented couple therapy and trauma informed approaches using EMDR. I am very interested in the contact work of Prouty and spent 6 months on an internship in a long-term psychiatric ward during my training. I would situate my personal approach as being close to the concept of relational depth expressed by Mearns. My experience with clients has brought me naturally to the creative use of mindfulness and meditation in and out of session.
At present in 2020 I am training with the British Focusing Organization in Focusing oriented therapy. It is with real joy that I have been able to take the time to integrate this process and deepen my awareness of the felt-sense and growing edge of experience which I have always been close to in the most alive moments of my life, during some moments of childhood, when writing and when in empathic connection with other people.